Adding new pages
The 'Define New' button > Content Types > Menu Link
You can find the Content Type by clicking the 'Define New' button for a new page, or the 'Define' button for an existing page.
The Menu Link is the second easiest of the content types to set up.

Will your site have a navigation line item that links to a page on another website? Then you'll want to use the Menu Link.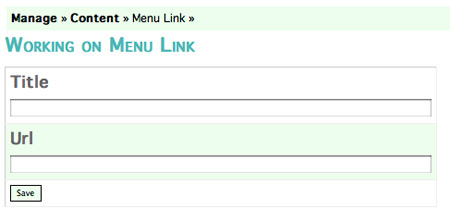 This is simple. In the Title field, type in the text that you want for your navigation link to say. Then type in the full URL (web address) of where the link should go to on the web.



As always, remember to hit Save at the bottom to save your Menu Link.